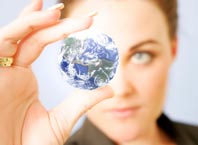 Tel:
+ 49 9197 6282 956
Fax:
+ 49 9197 6282 182
E-Mail:
argema(at)schmetterling.de
BEWERTUNGSTOOLS
Schmetterling Hotel Rating Tool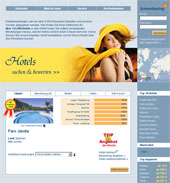 With rating tools you can record and publish your expertise profitably for your customers.
Our new rating tool has many innovative features:
the design has been completely revised and it is now available as white label
the search function is even faster and more reliable
improved keyword search with search suggestions
display of search results on maps, Google Maps integrated
Clipboard
display of top offers
currently there are about 200,000 objects already furnished with Geo Code
the rating tool contains about 400,000 objects, 160,000 from GIATA
search by Zend Search Lucene - text search with object suggestion from the database
each hotel can be set individually with the ratings as a deeplink
The customer has the option to view hotel ratings, to compose reviews or to book a hotel directly. The databases Schmetterling Cupido and Urania are connected to the rating tool
Anyone who likes to compose a review needs to register first. Only when you are logged in, reviews can be made.
The Schmetterling hotel rating tool can be integrated into your homepage in two different sizes (580px and 780px).
The ratings are added automatically to all Schmetterling applications and reviews can also be submitted from there.
Airline Rating Tool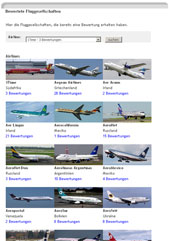 This tool serves the passengers satisfaction, allowing them to inform themselves about the opinions other travelers had about an airline, wheter those are positive or negative.
Using this site before booking a flight therefore is quite handy for customers.
The tool is easy to use and every available airline is at your disposal within only a few mouse clicks.
Customer reviews are clearly represented.
Upon reviewing, several categories (e.g. type of aircraft, seat-comfort,...) are available. Additionally a text comment can be submitted.
It is also possible to upload one or even multiple images to each review.
To review a flight, no registration is needed.
Every airline's average rating can be viewed on a special site.